Having a phobia of the dentist can be due to a number of reasons, everyone has a different experience good and bad. Most people are scared of the dentist from having bad experiences either as a child or with their previous dentist. It could also be just the smell in the practice, the noises of the drills, if it will hurt or not or just the overall experience!
The good news is that dental practices have now become a lot more modern than how people remember dentist, not just how we look but also the dentist and their understanding for the patients. At Parrock Dental we have a very modern practice, not just the reception area but even the surgeries.
Of course there are still some areas that remain the same in dental practices, the noises you hear, the dental chairs etc but a lot has changed.
.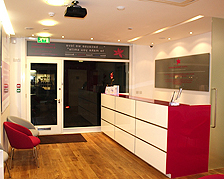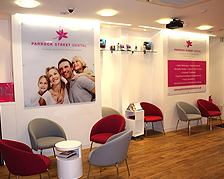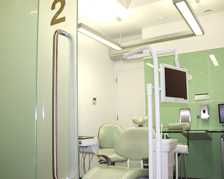 Coming in to the practice there are a lot of methods to try and calm you down and try and keep your mind at ease, there are posters, magazines and even TVs in the waiting area so while waiting can distract you so your aren't thinking about it too much. There is calming music that is played which has been scientifically proven having that on in the background always calms peoples nerves. People say music is only played to drown out the noise coming from the surgeries, at Parrock Dental this is not the case it's to make you feel as comfortable as possible. We always have a fresh smell in the reception, people don't like the 'dentist smell' we don't have that here; we have an air conned reception with air fresheners around the place. The surgeries are out of the way, you can not see them until you are at the door and the door is opened, the surgeries are very colourful and very clean, you can not see any instruments everything is hidden away in the cupboards. A great asset to Parrock Dental which isn't very common in other practices are our sky lights, a window which is placed right above the chair which is a view of outside, so many people comment on this and how it's a great idea to keep the mind distracted.
Methods and technology has improved incredibly through out the years, some treatments now can be completely painless. Now days they won't just pull your tooth out if it's causing you problems, keeping original teeth is vital, they will give you so many different methods and solutions to save it and make you have the best result for yourself. Also the equipment and methods that are used, yes we will still have suction and drill but they are a lot more powerful so the treatment will be less noisy and quicker to be completed. We also have a great piece of equipment, they are glasses that you are able to watch a move on, and ear phones so not only keeping your mind busy by watching a film but not being able to hear what is going on is a great advantage.
Dentists overall have a greater understanding of their patients being nervous and being worried about treatment. The receptionist also have a great understanding of patients being nervous so just have a chat to them tell them how you feel, getting it off your chest to someone who understands makes you feel a lot better. At Parrock Dental we also offer sedation privately; we can get a nurse in who can give the sedation. There are two methods of the sedation it can be an injection in either your arm or hand, it wont send you to sleep, you would still be awake and be able to talk, just a lot calmer and relax you so much you wouldn't be able to remember much of what actually happened. Another method is like gas and air, a bit like what is given during childbirth but instead it comes through a nosepiece instead of a mask, gas and air is normally recommended if you are nervous but not TOO bad.
Tips to ease you Dental fear:
Find a Dental Practice and Dentist that are kind and understanding, ask around, friends and family even reviews online to see who recommends a practice who welcomes nervous patients.
Once you have found a Dentist that you like ask if you can come in and have a look around and see what the place is actually like. At Parrock Dental we have a Treatment Co-ordinator so with who deal with new patients and nervous patients who always shows them round before they have an appointment.
Try and get the earliest appointment of the day, even maybe on a Monday so you have less time to dwell on it.    The FIRST appointment is always just a check up, the dentist learning a bit about you and just simply looking over your mouth at the health of all your teeth and gums. Don't worry you wont be chucked in at the deep end having fillings, drills and needles.
The dentist doesn't mind if your bring a friend or a family member, if it makes you feel more at ease the dentist wont mind at all.
Most dentists will tell you if you need a break or would like to sit up just to raise your hand, not just jump up. If the dentist doesn't give you a sign just say to them, 'if I want a break is it ok if I just raise my hand and you stop' the dentist will more often or not say this is fine. It makes you feel more in control aswel.
  In the reception area and in the surgeries there is music playing but if you prefer bring in your own personal stereo to help you relax.